Skip Global navigation and goto content
Breastfeeding Program
Women, Infants, and Children (WIC)
WIC & Nutrition Services are available by appointment only.
Call (813) 307-8074
to schedule an appointment.
Breastfeeding Help Line:  (813) 496-BABY (2229)
The Supplemental Nutrition Program For Women, Infants and Children's (WIC) Breastfeeding Program in Hillsborough County Provides:
Breastfeeding Support:
Peer Counselors
Certified Lactation Counselors
Lactation Consultants
Breast pump Loan Program
Breastfeeding Classes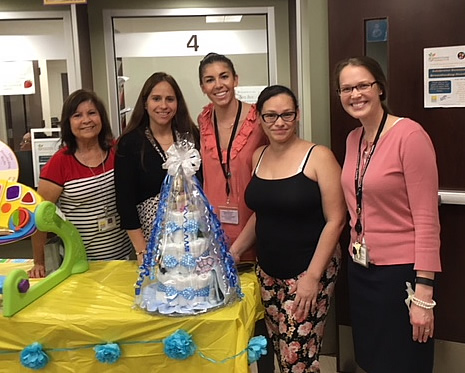 Our WIC Clinic staff celebrating moms, babies and families who choose to breastfeed
Peer Counselors:
Mother-to-mother support has proven to be one of the most successful approaches to encourage mothers to breastfeed their infants. The WIC Peer Counselor:
Serves as role model
Helps develop your personal breastfeeding plan to get you and baby off to a good start.
Supports and encourages you to reach your breastfeeding goals.
Teaches classes and provides education
Provides referrals when necessary
International Board Certified Lactation Consultants:
Internationally Board Certified Lactation Consultants (IBCLC) provide specialized consults including:
Latch assist
Preterm infant breastfeeding
Methods for improving milk supply
Nipple pain relief
Information on medications and breastfeeding
Breast Pump Loan Program:
Electric breast pumps are available to qualified breastfeeding mothers. The breastfeeding support staff with determine if you qualify for an electric breast pump. 
Please take a moment to review and complete one of the verification forms below to help begin the process.
Breastfeeding classes are available to WIC clients for FREE! The class covers a wide range of topics related to breastfeeding including:
Myths and concerns of breastfeeding
How breastfeeding works
Positioning and Latching at the breast
Additional Resources and Documents: 
Hillsborough County Breastfeeding Support Resource List: find additional resources in the community beyond WIC.
10 Steps to Successful Breastfeeding: Learn about the different ways hospitals and medical providers can support mothers to breastfeed.
For more information contact our Breastfeeding Help Line:  (813) 496-BABY (2229)